Our building work has won national awards
Kerr Cottage Bed & Breakfast, Dalbeattie
TV's 'Restoration Man' George Clarke pictured with Liz Wilbur, Michael Gaffney and Shane Gaffney during the National Award Presentation for the extension built to Kerr Cottage Bed and Breakfast in Dalbeattie.
M. Gaffney & Sons were named Heavenly Builder National Winner and Master Builder of the Year - 2012 following our work to design and build a small extension to a 170-year-old house in Dalbeattie.

Ian and Liz Wilbur wanted a new extension to replace an outdated conservatory used as a dining room for their bed and breakfast business. They specifically wanted the new extension to blend with their 170-year-old property, which meant they needed a builder with expert skills in stonemasonry.

The contract was put out for tender and M Gaffney & Sons won on their competitive pricing. However, Ian and Liz were even more pleased with their decision when they realised Michael went out of his way to accommodate the needs of their family and business.

He seamlessly blended the two buildings together using locally sourced reclaimed granite, cast-iron gutters and downpipes and slate roof tiles. Not only that, but he went the extra mile to ensure their business wasn't disrupted during the works. He began by building around the exterior of the old conservatory, which enabled Ian and Liz to carry on using the B&B's existing dining room for as long as possible.

Furthermore, he even cut a hole in the wall and railings that surrounded the property to allow a mini digger to gain access to the site. This meant their guests' parking spaces weren't obstructed by construction equipment, allowing business to carry on as normal.

"Nothing was too much trouble," commented Ian.

"We were updated daily on progress and Michael went out of his way to make sure our business wasn't disrupted. He even did additional work for our convenience at no extra cost."

"Towards the end of the build, Michael realised the extension would result in a small step into the dining area, which would prove difficult for the couple's disabled daughter and any disabled B&B guests.
To make sure this wasn't a problem, he raised the floor to make it the same level, allowing wheelchair access to the new extension. Two doors also had to be remade to fit the new conservatory extension and Michael absorbed the costs for this."

Michael was praised by Ian and Liz for his exceptional attention to detail and his first-class customer service, in a challenging project which needed expert skills in stonemasonry.

"We wanted something quite specific that matched the rest of the property," Ian said.

"Michael Gaffney has achieved that and more. His work is of an extremely high standard and the extension now has the 'wow factor' we wanted, which has enhanced our business. "

"People knock on our door just to compliment it!"

The former lifeboat station at Balcary, near Auchencairn, which was completely renovated into a dwelling and was Highly Commended by the Federation of Master Builders.
The Boathouse, Balcary, near Auchencairn
In 1998, M. Gaffney & Sons were Highly Commended by the Federation of Master Builders for their work restoring a 114-year-old former lifeboat station at Balcary, near Auchencairn.

The building had been abandoned for more than 60 years when it was bought by Duncan Hempstock from Kent who was so impressed by the restoration work that he nominated the building for an award.

Before work could even start on the building, a 600-metre road had to be cleared through woodland and materials brought to the site by hand along with a small dumper truck.

The restored building incorporates five different floor levels connected by staircases that had to be constructed to comply with headroom requirements whilst retaining the original roof beams.

Call 07860 852443 today for a free, no-obligation quote or email us.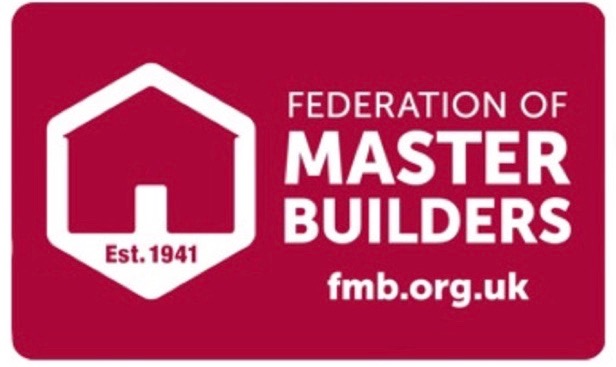 The General Data Protection Regulation (GDPR) will apply in the UK from 25th May, 2018. It will replace the 1998 Data Protection Act and introduce new rules on privacy notices, as well as processing and safeguarding personal data

The name you can trust
Proud members of the Federation of Master Builders

---